Welcome to the ThomaStudios Website
CURRENT STATUS
UPDATE:
Currently JD has been fully vaccinated and boosted against the COVID-19 virus.

ThomaStudios' lessons-in-the-home are currently ongoing and the weekly schedule is running normally.

There are openings now, and new students are welcome to sign up for lessons in your home. August is now here, and historically the schedule begins to fill this month. So there isn't a better time to get added to the schedule and guarantee a place in the active schedule this fall.

Contact ThomaStudios for complete information.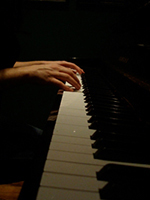 As noted above, there are openings for private piano / keyboard lessons in the West Linn and Lake Oswego, OR areas for students of all ages and levels. Lessons take place in your home so they are convenient, relaxed, and fun. Please see the links under Private Lessons.
Please note: at this time private lessons in your home are limited to West Linn and Lake Oswego only.
To read what past and present parents and students have to say about ThomaStudios' lessons, visit the Reviews / Testimonials page.
If you are interested in more information, please call 503.656.6952. Local references are gladly given upon request. You must call however. References are not given out via email or text.
Feel free to send an email, or take the time to fill out the online form here on the site.
An excellent resource for combatting spam on your site's email is available here:
MX Guarddog