COVID-19 STATUS
UPDATE: As of 4/9/2021 JD has been fully vaccinated against the COVID-19 virus.

ThomaStudios' lessons-in-the-home are currently ongoing and the weekly schedule is running normally. Some of the lessons with current students have been shifted to a virtual setting via Zoom and FaceTime. The remainder of lessons are running weekly, face-to-face in the home, and there have been no health issues for anyone with this normal arrangement, and parents and students are quite comfortable in this setting. Masks are used for both student and teacher whenever requested. It's the choice of the student and/or parents, and that choice is always respected.

There are openings now, and new students are welcome to sign up as long as you are comfortable with the lessons taking place in your home. Virtual lessons for new students are not as conducive to the usual face-to-face and hands-on approach, which is far more productive than a virtual setting, and much better for the interaction with new students, especially younger children.

If you are interested in starting lessons immediately or very soon, contact ThomaStudios for scheduling information.
Welcome to the ThomaStudios Website
Private Piano Lessons
In Your Home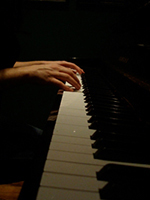 Currently there are openings for private piano / keyboard lessons in the West Linn and Lake Oswego, OR areas for students of all ages and levels. Lessons take place in your home so they are convenient, relaxed, and fun. Please see the links under Private Lessons.
Please note: at this time private lessons in your home are limited to West Linn and Lake Oswego only.
To read what past and present parents and students have to say about ThomaStudios' lessons, visit the Reviews / Testimonials page.
If you are interested in more information, please call 503.656.6952. Local references are gladly given upon request. You must call however. References are not given out via email.
Feel free to send an email, or take the time to fill out the online form here on the site.
An excellent resource for combatting spam on your site's email is available here:
MX Guarddog